---
2021-2022 School Year
Important Dates
July 29th, August 1st & August 6th: New student registration.
Please call the registrar's office at 801-256-5836 to schedule an appointment
August 2nd-August 13th: Online registration is open
August 2nd at 8:00 am: Parking passes go on sale for juniors and seniors with a current drivers license. Please use this link to purchase. No parking passes will be sold in the office.
August 5th 9:00 am-10:00 am: Sophomore Summer Slam in the auditorium.
August 5th 10:00 am-1:00 pm: Sophomore pictures in the tech atrium.
August 5th 9:00 am-2:00 pm: Sophomore chromebook distribution in the commons.
August 6th 8:00 am-12:00 pm: Junior and senior pictures in the tech atrium
August 16th 7:30 am: First day of school
---
Summer Reading Assignment
Language Arts Honor's 11th
Warriors Don't Cry by Melba Beals.  Students should read the non-abridged version (ISBN: 978-0671866396).
Language Arts AP Literature
How to Read Literature Like a Professor: A Lively and Entertaining Guide to Reading Between the Lines by Thomas C. Foster.
The Metamorphosis by Franz Kafka
---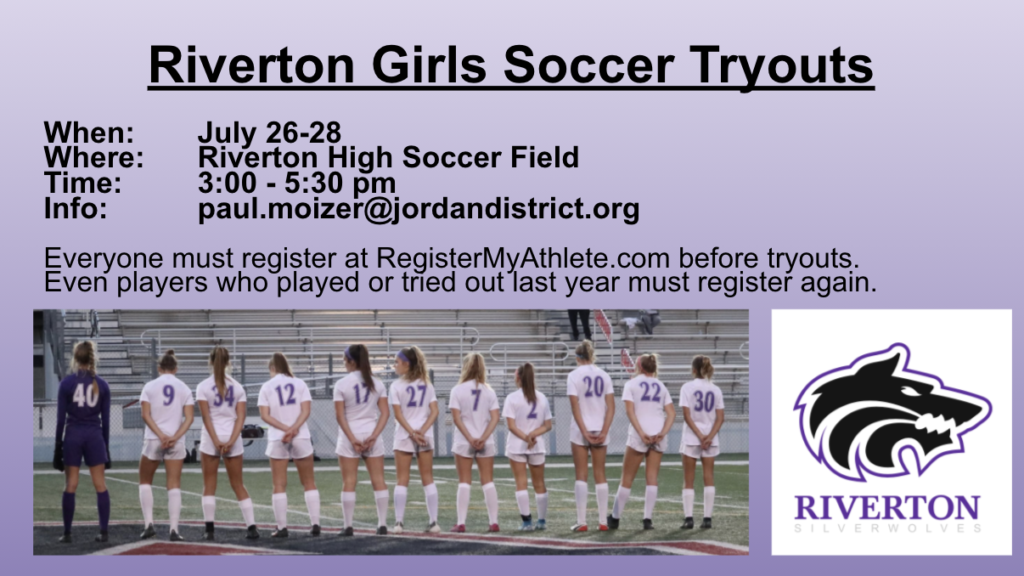 We cannot accept any more registrations. If you  are interested in taking a summer Dr. Ed. class you may contact one of the other high schools in our district to see if they have any openings.
---
Applying for College?
Need some help?
Great information can be found on our Counseling Center website.  Another good resources is the Fair Opportunity Project Guide.  This is a a free resource designed to help students with college admission and financial aid.
---

---
Follow RHS Instagrams!
@rivertonclassof2023
@rhs_class_of_2022
@rivertonhighclassof2021
@rhs_silverwolves
@rhs_maskup
---
---
---