---
Parent/Teacher Conferences
Wednesday, September 28th -- In Person Only
Thursday, September 29th -- Virtual Only
4:00-7:30 PM
Use Conference Scheduler in Skyward to make appointments.
Click here to access the zoom links for each teacher on Thursday.
Password for all Zoom links is SILVERWOLF
---
Silverwolf Happenings
September 26 - October 1, 2022
Monday, September 26th - HOSA blood drive at 8:00 am - 2:00 pm
Monday, September 26th - Boys Golf @ Talon's Cove
Monday, September 26th - LYFT Assembly - Double Bell Schedule
Monday, September 26th - Live in Real Life at 6:30 pm
Monday, September 26th - Lacrosse Parent Meeting at 7:00 pm
Tuesday, September 27th - PCCR Meetings with Counselors
Tuesday, September 27th - Ice Cream Sing Thing at 6:00 pm
Tuesday, September 27th  - Swimming parent meeting at 6:00 pm
Tuesday, September 27th - Volleyball at Mountain Ridge at 6:00 pm
Tuesday, September 27th  - Girls Soccer at Bingham at 7:00 pm
Wednesday, September 28th - Girls Tennis 1st Round
Wed, September 28th - Parent Teacher Conf - In Person at 4-7:30 pm
Wednesday, September 28th - PCCR Meetings at 5:30 pm
Thursday, September 29th - Shakespeare Assembly at 1:15 pm
Thursday, September 29th -JV/Soph Football Game at 3:30 pm
Thurs, Sept 29th - Parent Teacher Conf - Virtual at 4:00 -7:30 pm
Thurs, September 29th - PCCR Meetings with Counselors at 5:30 pm
Friday, September 30th - No School
Friday, September 30th - Football vs. Herriman at 7:00 pm
Saturday, October 1st - Band at USU
---
Yearbook Senior Salute
Yearbook Senior Salute Recognition Ads are the perfect way to commemorate achievements and celebrate your graduating seniors milestones. In addition, revenues from Senior Salute Recognition Ads help our school create a better yearbook.
Early Bird Price: $45 --  All orders must be placed by 10/31/2022
Regular Price: $55 -- All orders must be placed by 1/14/2023.
Last Chance Price: $65 -- All orders must be placed by 2/1/2023 to ensure Ad publication in the yearbook.
To purchase your recognition ad online, Click Here
Click Here for More Information
(Including content guidelines and FAQ)
*Jostens is responsible for our school's yearbook ad sales. Please do not contact or send materials to the school. 
---
RHS Positions Open for the 2022-2023 school year.
Athletic Secretary -- Full-time/12 Month Position
2 Special Education Assistants --  One 25 hour and one 17 hour position available.
Assistant Boys Lacrosse Coaches
2 Adult Full-Time Custodians
1 Adult Part-Time Custodian
Student Sweepers
Click on the job title above  to apply!
---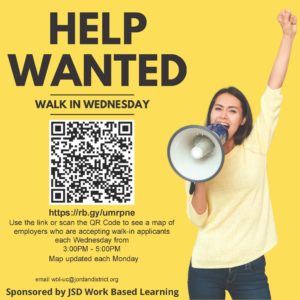 ---
Watch RHS Athletics Events
Click below to watch all major sporting events in the RHS stadium or gym.  The games will be streamed live.
---
Applying for College?
Need some help?
Great information can be found on our Counseling Center website.  Another good resources is the Fair Opportunity Project Guide.  This is a a free resource designed to help students with college admission and financial aid.
---
Follow RHS Instagrams!
@rivertonclassof2023
@rhs_class_of_2022
@rivertonhighclassof2021
@rhs_silverwolves
@rhs_maskup
---
---
---
CTE-OCR Annual Notice of Nondiscrimination
Click here to view our Non-Discrimination Policy regarding the CTE classes offered at Riverton High School.
---
---